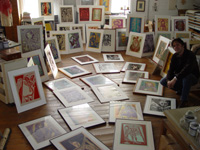 Worshiping at the temple...
Photo by Lucrezia Alcorn, January 7, 2005

American music in the twentieth century has changed the world. MODERN MUSIC MASTERS pays homage to the men and women who bridged the gaps between tradition and innovation, craft and genius, entertainment and art, music and poetry, composition and improvisation, black and white. All images hand-printed by the artist on acid-free paper.