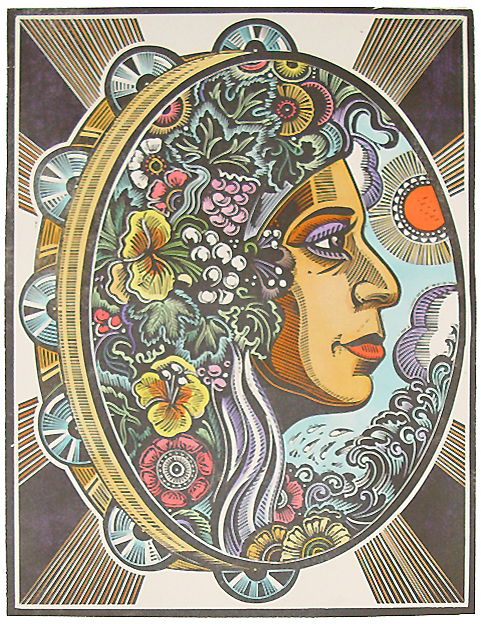 "Ms. Tambourine Woman" (Teresa De Sio)
April 28, 2010
Hand-tinted, polychrome relief-block print
18.25 x 14 in. image, 23 x 17-1/2 in. paper
Signed in pencil, artistís proof
Hand-printed by the artist on acid-free paper
© The Alcorn Studio & Gallery


For those who may be living outside outside of Italy, and may not have not had the opportunity to hear Teresa De Sio's music, Teresa is an immensely talented singer/songwriter, guitarist, percussionist, author, humanist and social activist of neapolitan descent whose meteoric rise to fame as a young woman in the early eighties thrust her onto the forefront of the Italy's popular music stage, where she now occupies a place of honor as a steadfast champion of of Italy's venerable and immensely rich and varied folk music heritage. Tapping into the inexorable wellspring of a wealth of Italy's regional traditions, Teresa breathes new life into a variety of age-old musical forms and styles, spawning a music that is at once old and new, and (ultimately) timeless. Teresa is to Italian folk music what Odetta (1930-2008) Miriam Makeba (1932-2008) were to American and South African folk music respectively. As such, Teresa is one of Italy's most vibrant and inspiring cultural/musical treasures.
Modern Music Masters main page
---