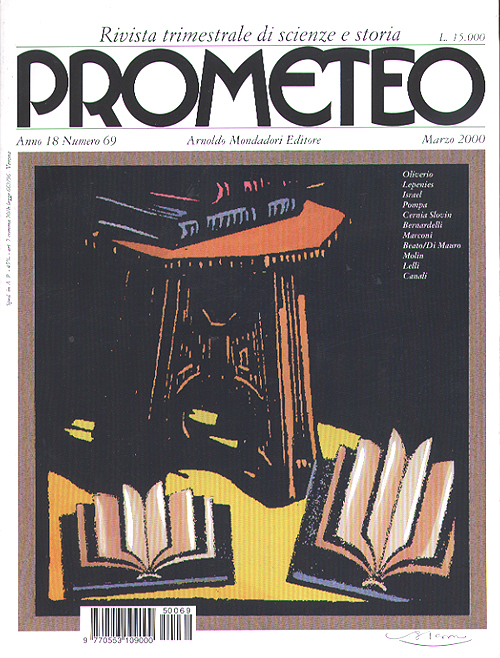 PROMETEO n.69
Rivista trimestrale di scienze e storia

Mixed media on paper; 10 3/8 in. x 10 1/4 in.

---


PROMETEO, a cultural quarterly, is published by Arnoldo Mondadori Editore and Il Periodico, in Milan, Italy.


DIRETTORE SCIENTIFICO: Valerio Castronovo
COMITATO EDITORIALE: Maria Paola Arena, Nicola Gasbarro, Marco Guidi,
Paolo Morawski, Alberto Oliverio, Viva Tedesco, Massimo Terni
ICONOGRAFIA: Pepa Sparti
IMPAGINAZIONE: Michela Bonanni
COORDINAMENTO SEGRETERIA: Anna Marchini
PROGETTO GRAFICO ORIGINARIO: John Alcorn e Stephen Alcorn
DIRETTORE RESPONSABILE: Pepa Sparti
---

© The Alcorn Studio & Gallery
112 West Main Street
Cambridge, New York 12816
Tel: (518) 677-5798
Fax: (518) 677-2526
E-mail: alcorn.art@worldnet.att.net
http://www.alcorngallery.com


No part of this web site may be reproduced, in any form, by any means,
including mechanical, electronic, photocopying, or otherwise,
without prior written consent of Stephen and Sabina Fascione Alcorn.