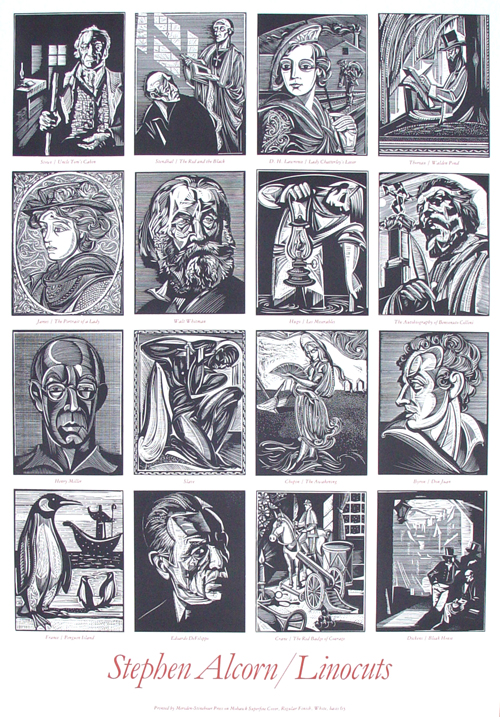 Stephen Alcorn Linocuts Poster

32 x 22 in.
~ Signed by the artist ~
Suitable for framing; beautifully printed on premium Mohawk Superfine stock (65 lb. cover).
$30.00 + shipping and handling

This poster features 16 of Stephen Alcorn's literary prints:

Top row, left to right:

Harriet Beecher Stowe / Uncle Tom's Cabin • Stendhal / The Red & the Black • D.H. Lawrence / Lady Chatterley's Lover • David Thoreau / Walden Pond

Second row, left to right:

Henry James / The Portrait of a Lady • Walt Whitman / Leaves of Grass • Victor Hugo / Les Miserables • Cellini / The Autobiography of Benvenuto Cellini

Third row, left to right:

Henry Miller / Tropic of Cancer • Stephen Vincent Benet / Slave • Kate Chopin / The Awakening • Lord Byron / Don Juan

Fourth row, left to right:

Anatole France / Penguin Island • Eduardo de Filippo / Portrait • Stephen Crane / The Red Badge of Courage • Charles Dickens / Bleak House
---

© The Alcorn Studio & Gallery
112 West Main Street
Cambridge, New York 12816
Tel: (518) 677-5798
Fax: (518) 677-2526
E-mail: stephen.alcorn@verizon.net
http://www.alcorngallery.com


No part of this web site may be reproduced, in any form, by any means,
including mechanical, electronic, photocopying, or otherwise,
without prior written consent of Stephen and Sabina Fascione Alcorn.